CTRs, Baselines, Exemptions, Beneficial Ownership—What keeps you awake at night?
2021 brings many BSA issues that can keep you up at night! From COVID Crimes and SARs to planning your Hemp policy, there are many twists and turns for 2021. This program brings many "Have you thought about it?" items on your list of things to do for 2021. COVID has changed customer transactions in ways we are just beginning to understand. What will it do to your risk assessment, your exemptions, your Customer Identification Program and beneficial ownership? Its time to begin to think about the long-term impact on your program and the short-term compliance issues
Learn caption
BSA Officers, BSA Staff, BSA Audit, Compliance, Operations, Security and Branch Staff.
---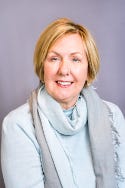 Instructor Bio
---
Continuing Education Credit Information
Recommended for 2 CEU Credit Hours. After attending this webinar, each attendee can receive a Certificate of Attendance for self-reporting of CEU Credits.