In addition to opening accounts in person for businesses, we now bank businesses online, with debit cards and through remote deposit. Because of these multiple entities and various approaches to opening accounts numerous questions arise. How do we set up these accounts and then change them as the businesses change? What happens when a partner dies? What happens when the sole proprietor dies? Can you keep the same EIN if a sole proprietorship incorporates? What if the LLC members are other businesses? How do they sign? We will look at tax issues when a business is disregarded and reported in a different tax number. And the list of questions goes on.
Understanding designations, rules and authority on all different types of business accounts can assure that you are taking the proper precautions and can assist you in avoiding errors that can be costly to your organization.
Learn caption
This informative session is directed to Customer Service Representatives, Branch Managers, Lenders, Personal Bankers, Training and Branch Administration, Tellers who work in the commercial area of the bank.
---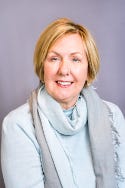 Instructor Bio
---
Continuing Education Credit Information
Recommended for 2 CEU Credit Hours. After attending this webinar, each attendee can receive a Certificate of Attendance for self-reporting of CEU Credits.